Learn a language by watching videos
Trancy helps you turn YouTube and Netflix into personalized study materials. You can build your vocabulary and grammar skills, Improve your listening and speaking abilities.
Get ready for the world
Learn to speak up to 10 languages and discover new opportunities in life.
immersive video watching experience
A new theater mode helps you purify all distractions on the page and focus more on the content itself.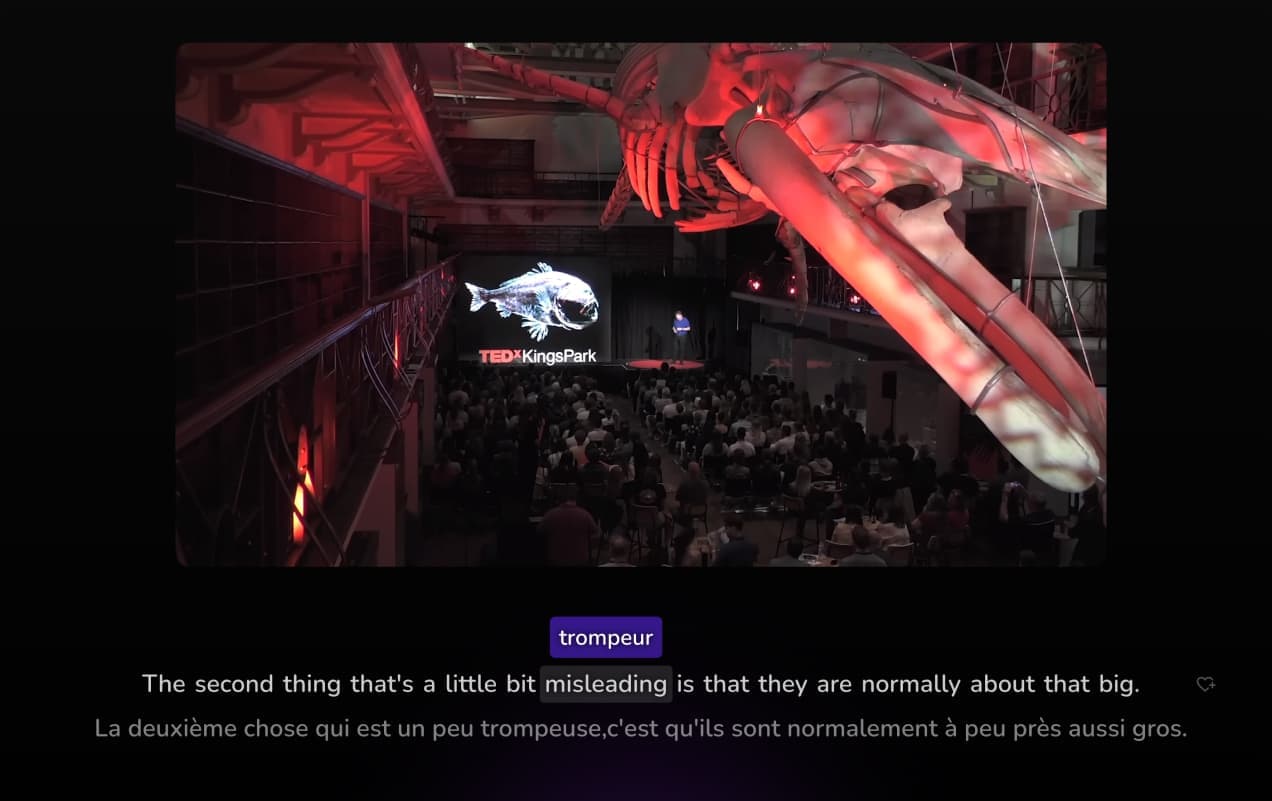 subtitles
Bilingual subtitles
Improve the accessibility and comprehension of video and movie content, AI translation helps you better understand the dialogue and enhance your language skills.
Get Started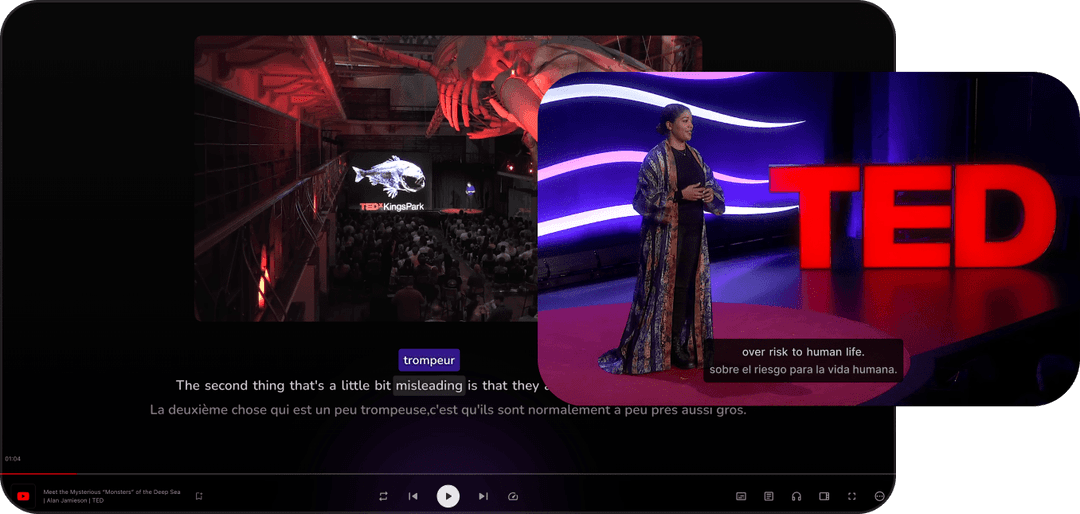 view_in_ar_new
Succinctly and Focus
Unlike other extensions, Trancy does not insert new features into the existing interface. We present videos in a cleaner and more focused way in our interface. It can better provide language learning tools for you to use.
skip_next
Skip next/previous by sentence
Focus on specific sentences or phrases, move quickly through a video without missing important information.
repeat_one
One sentence loop
Practice and improve your pronunciation and listening skills more efficiently.
Innovative reading patterns
See all of the subtitles for a video at the same time, better understand the context of the sentences.
The innovative reading pattern feature allows you to see all of the subtitles at the same time and to resize the video window. you can focus your attention on the subtitles and better understand the context of the sentences.
Get Started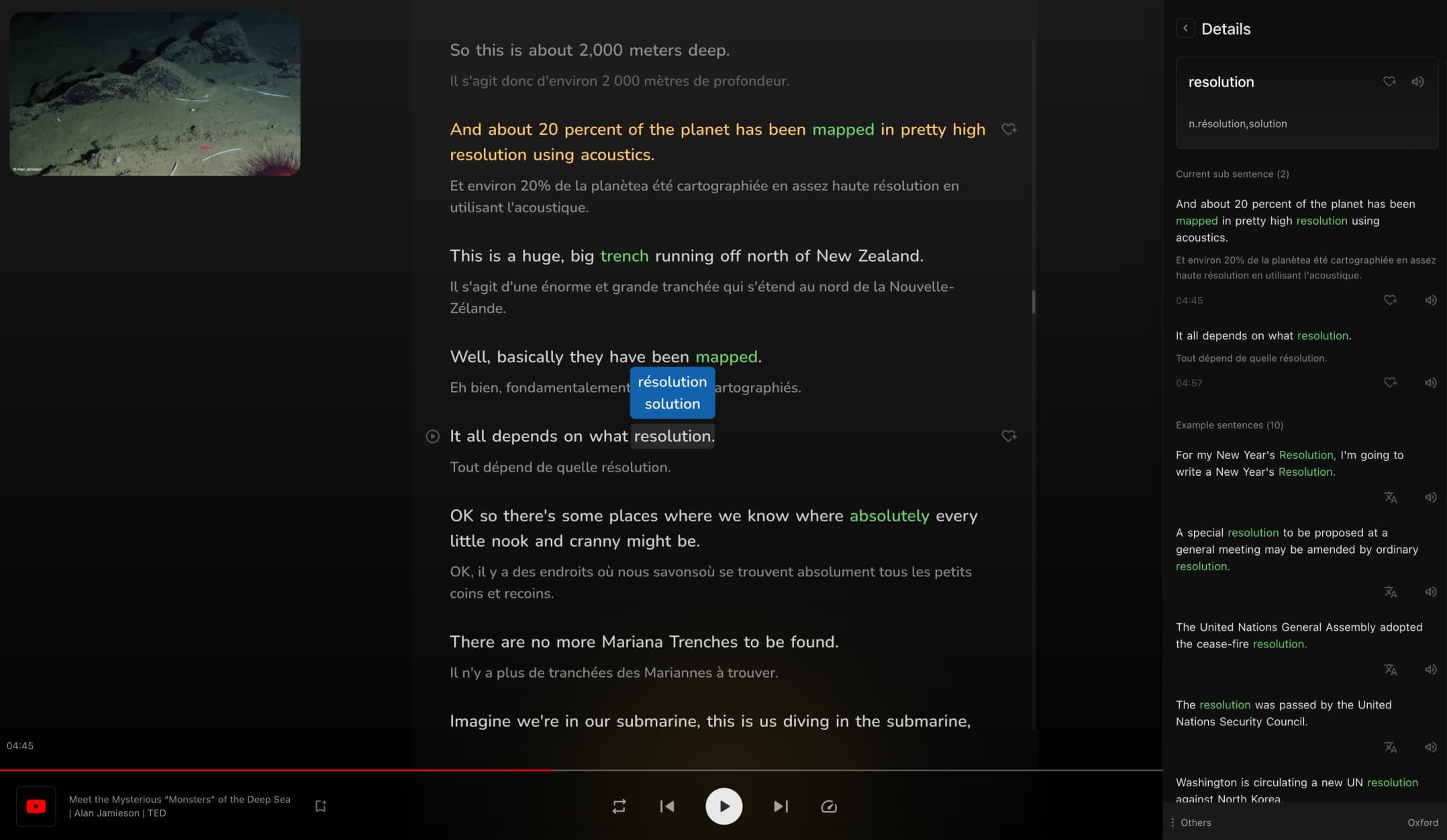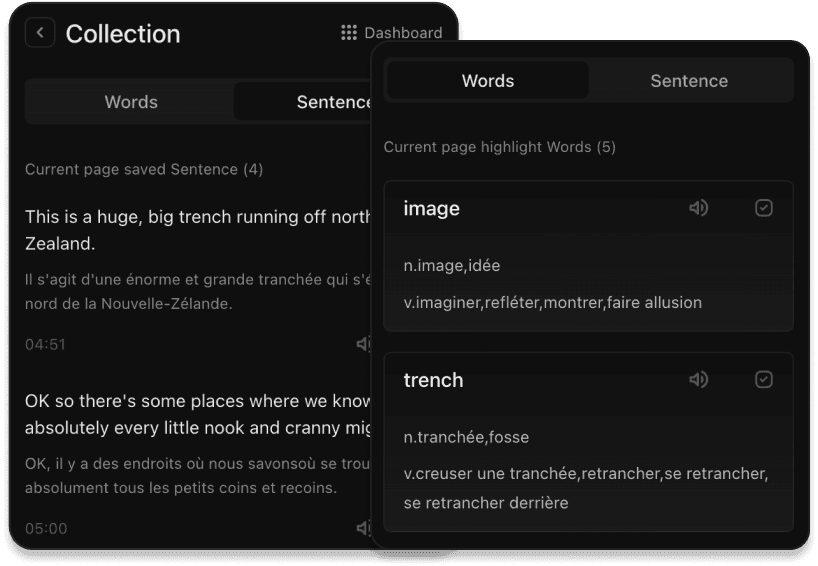 home_storage
Personalized study materials
Trancy lets you save new words and favorite sentences, build a personal database of learning materials. This database will appear repeatedly in the subtitles of future videos you watch and train with. This can help you review and reinforce the material, and support your language learning goals.
wrap_text
Intelligent sentence segmentation
Divide a continuous stream of text into individual sentences base on NLP.
generating_tokens
Using AI translation for machine-generated subtitles, understand the content of more accurately.
label
Part-of-speech (POS) tagging
Use natural language processing (NLP) to identify the grammatical category of a word in a sentence.
palette
Create a personalized study environment that suits your style and interests.
Variety of training methods
Help you improve your vocabulary, grammar, listening, and speaking skills in all aspects
record_voice_over
Speaking mode
font_download
Filling mode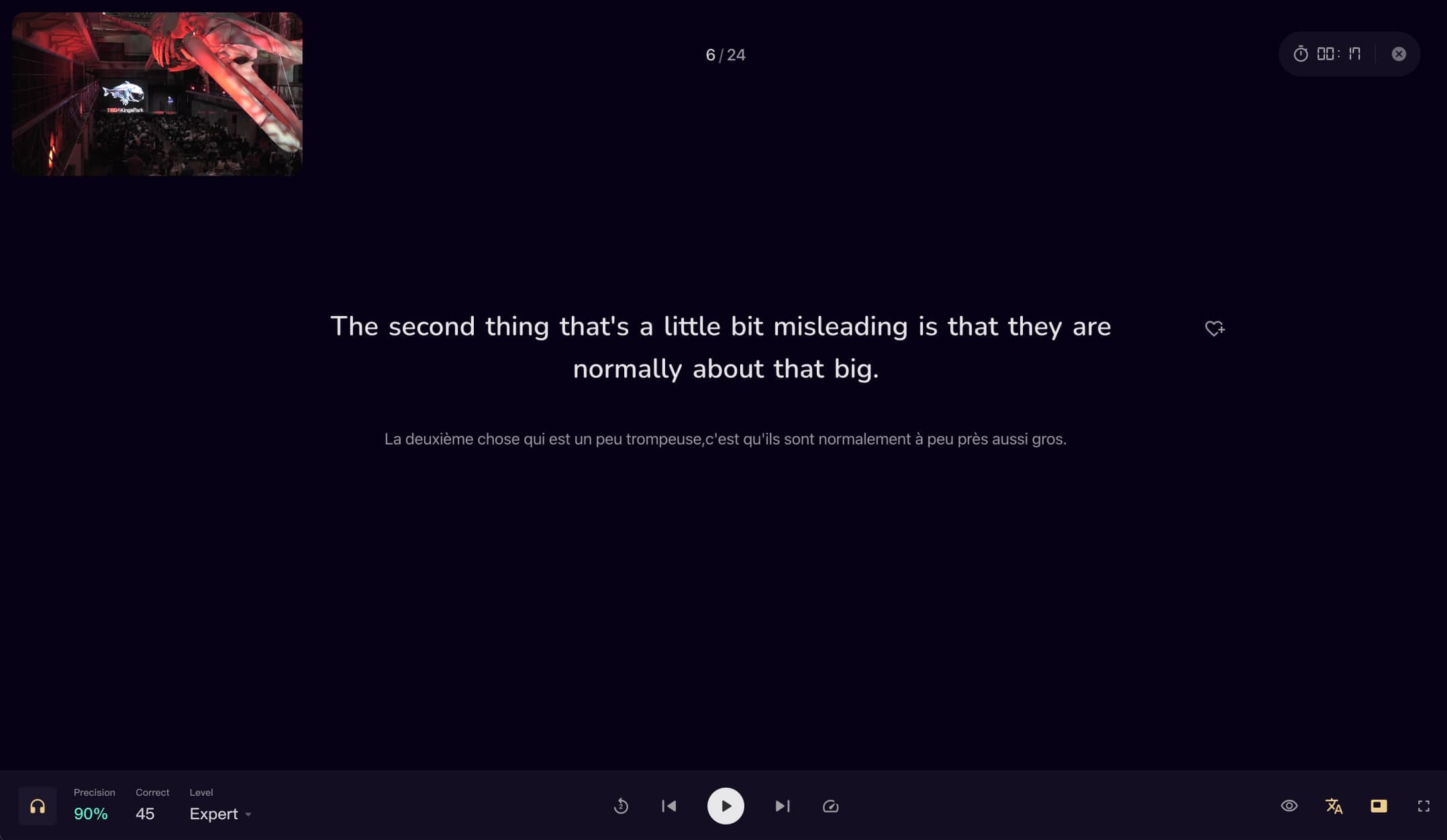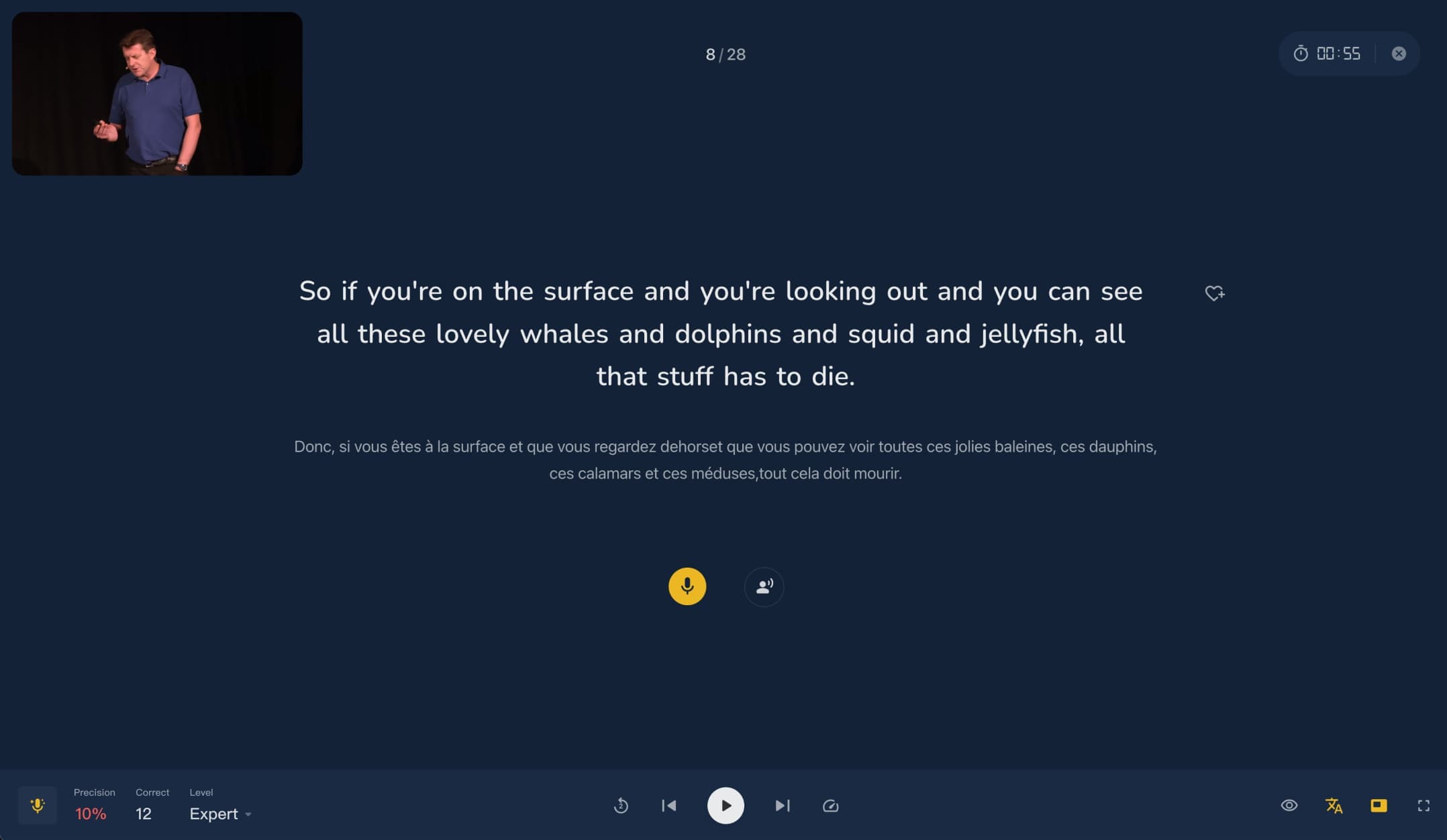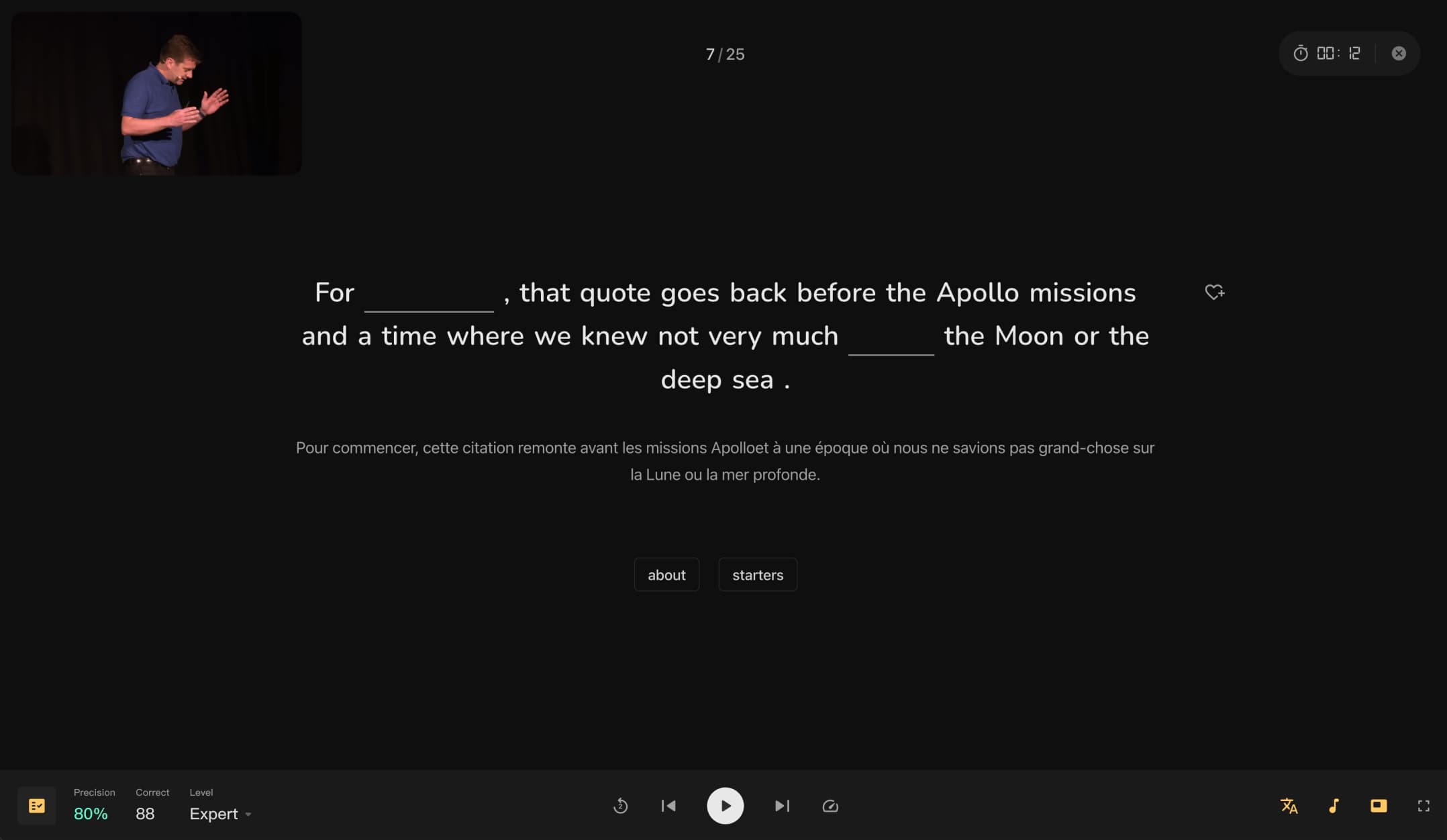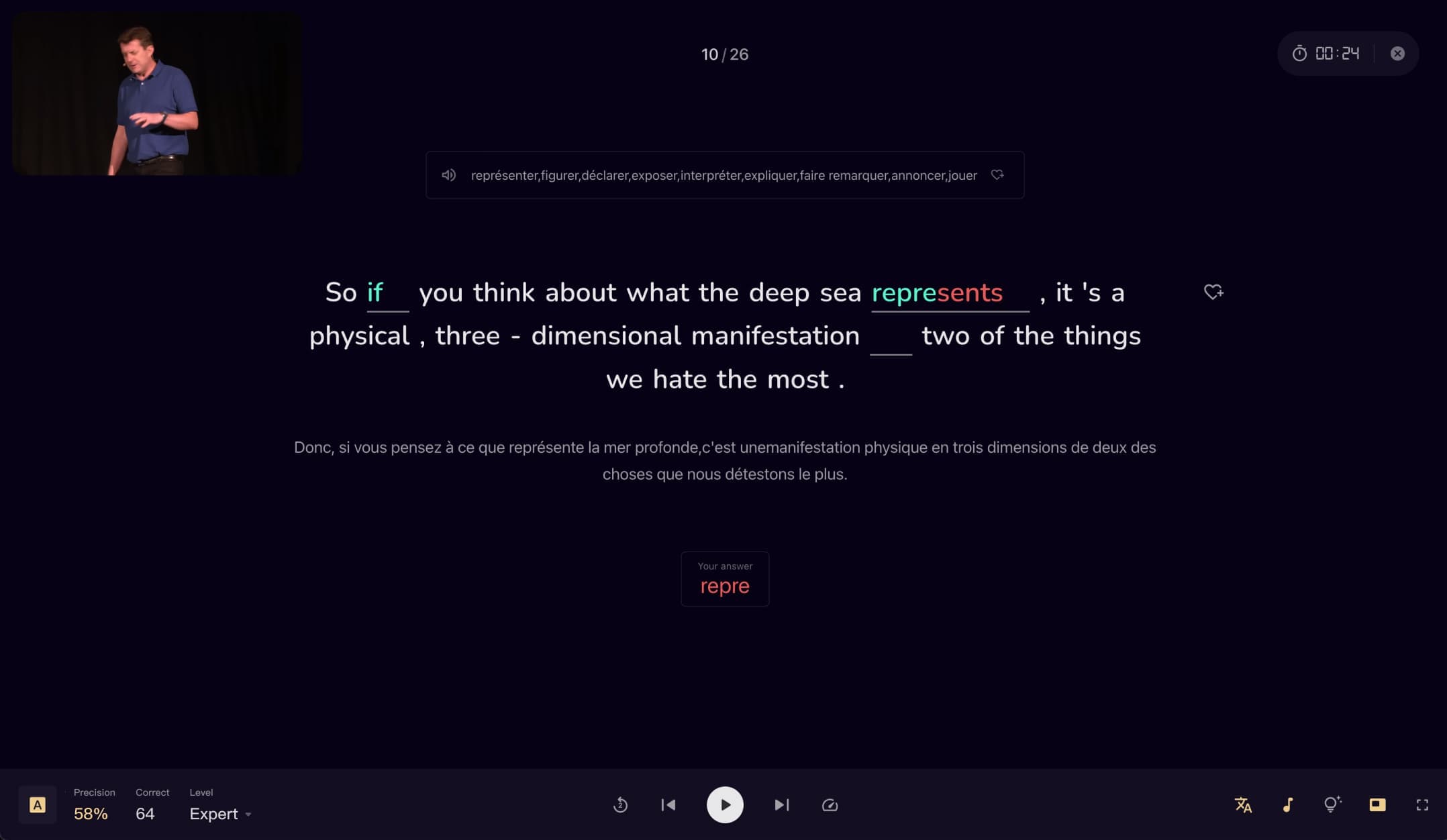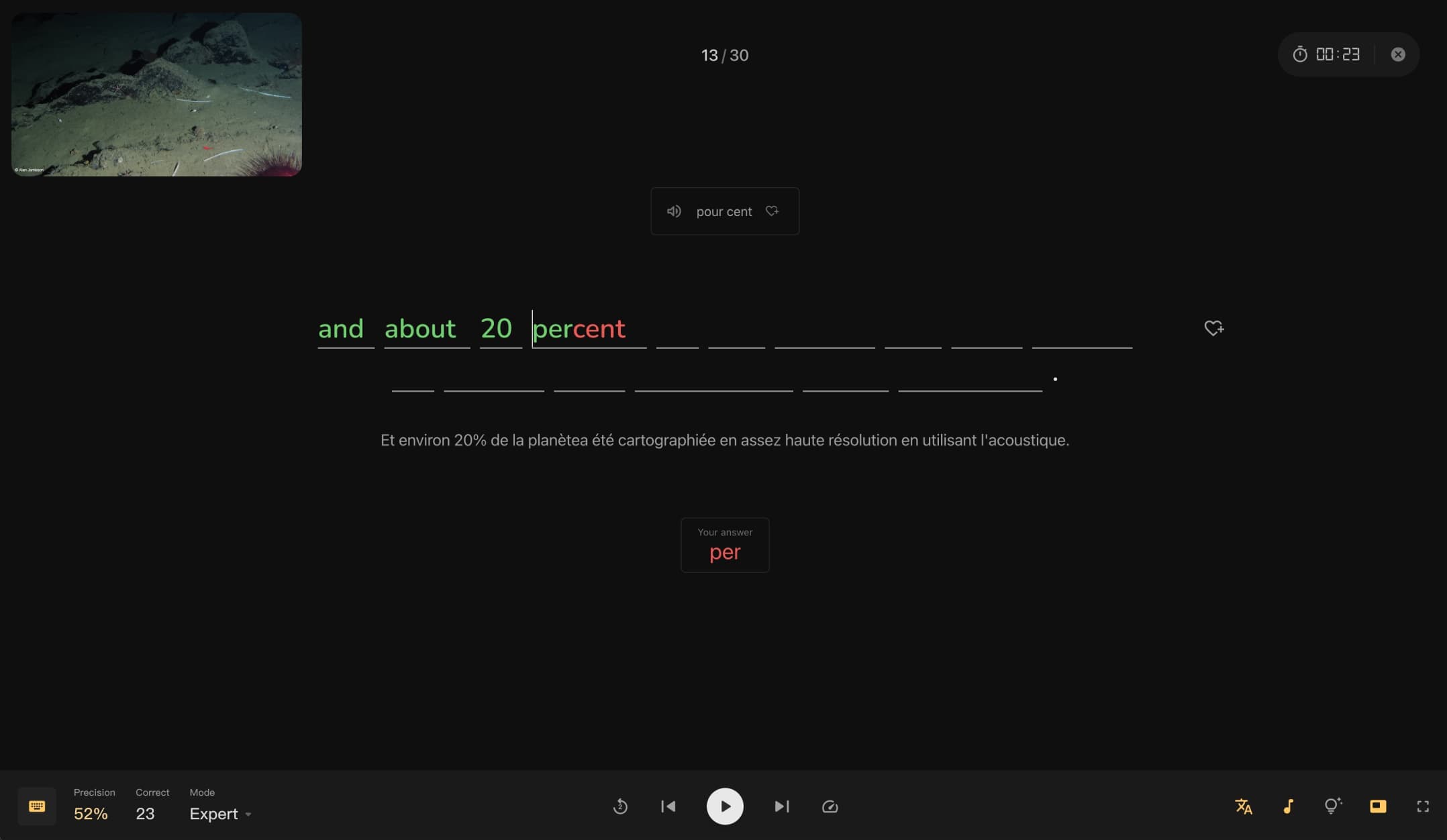 Trancy offers a range of language training modes that cater to different levels of difficulty, you can improve your vocabulary, grammar, listening, and speaking skills, and become a more confident and fluent language learner.
headphones
Focus on each sentence, and listen to it carefully, without being distracted by the rest of the audio.
record_voice_over
Express your ideas and thoughts more effectively, and communicate with others more fluently.
keyboard_alt
Practice typing words and sentences from video subtitles, Improving your muscle memory.
tips_and_updates
A range of intelligent prompts tools that can help you complete various types of training.
Creating your own learning decks
A great way to personalize your language learning experience, and tailor it to your specific needs and goals.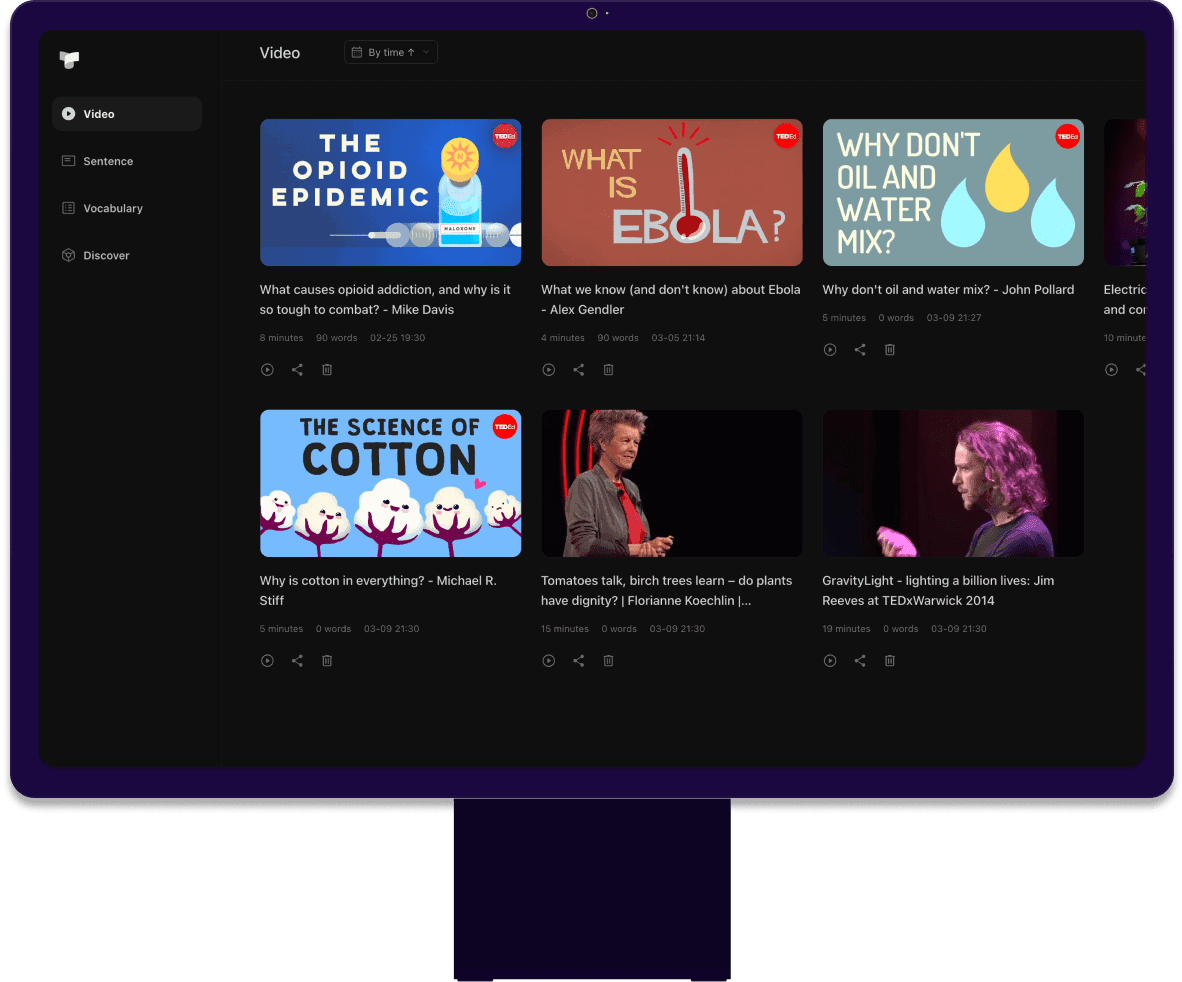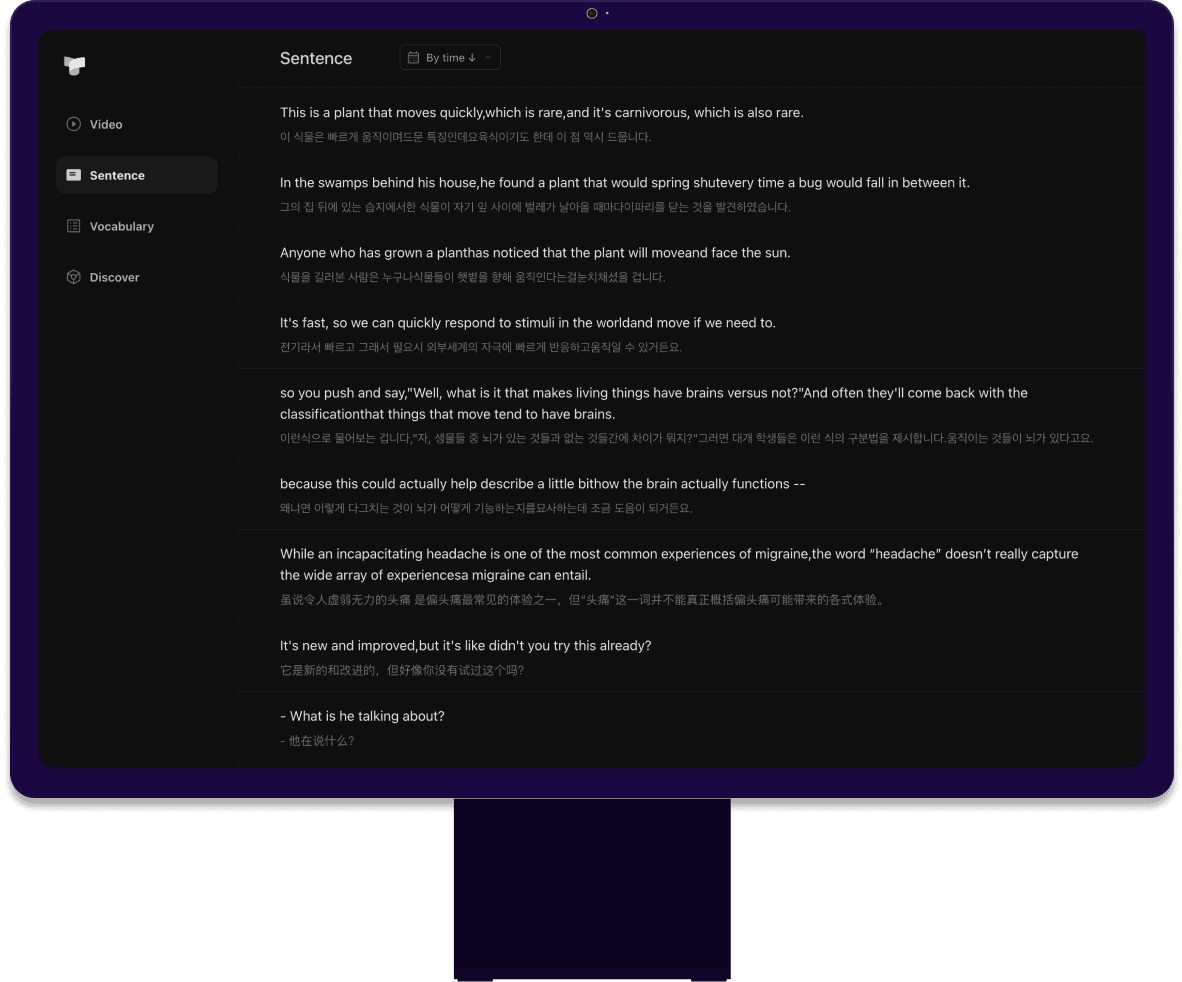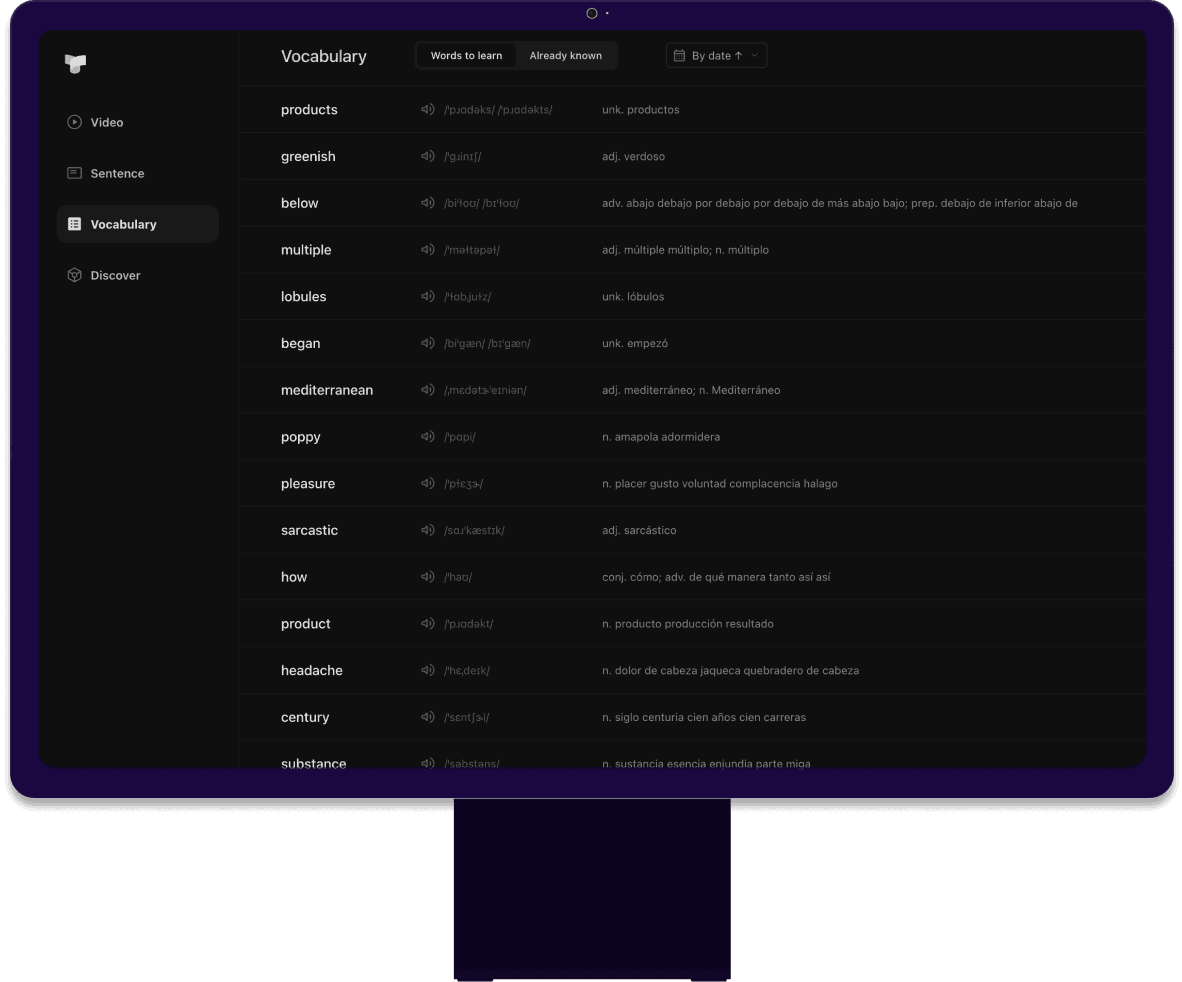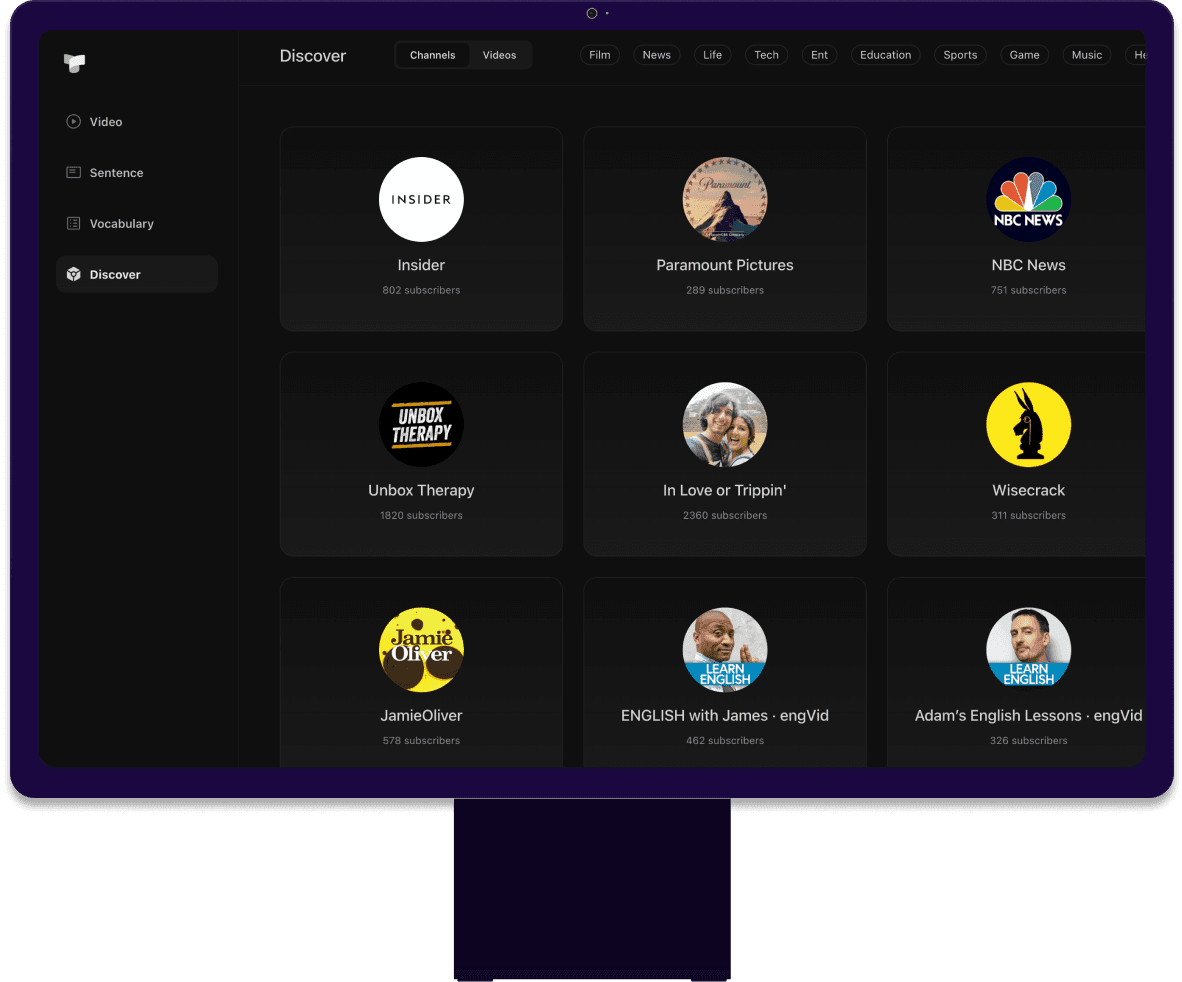 smart_display
Watch it later
Organize your favorite videos in one place for easy review and revision, share it with your friends, and learn languages together.
featured_play_list
Real-life sentence
Save your favorite sentences to your library, Review and apply them to real-life language communication.
list_alt
Study what you want
Customize your learning experience and focus on the topics and languages that matter to you.
devices_other
Anytime and anywhere
With the web-based learning center, you can learn languages anytime and anywhere according to your preferences and needs.
Go to learning center
More features
We will continue to develop and improve more advanced and comprehensive language learning tools.
speed
Speed playback
Adjust the playback speed of the video to help better understand and practice the language.
format_underlined
Word highlight
Look up and save new words from the subtitles and highlight them for future reference.
format_size
Fonts adjustment
Customize the size and style of the subtitles, to make them more readable and accessible.
text_to_speech
Lifelike Text to Speech
Improve pronunciation and speaking skills by natural sounding text to speech voices.
book
External dictionary
Access external web dictionaries, more detailed and professional look up words and phrases.
keyboard
Shortcut ready
Fly through your leaning tools with keyboard shortcuts for everything. Literally everything.
temp_preferences_custom
OpenAI Syntactic analysis
The use of AI and natural language processing technology provide with detailed syntactic analysis.
reviews
Speech recognition
Use speech recognition to improve your listening skills and pronunciation.
Ready for browsers
The extension is designed to be user-friendly and easy to use, making it a valuable tool for language learner
Download for Chrome
Download for Edge
Download for Firefox
Coming soon